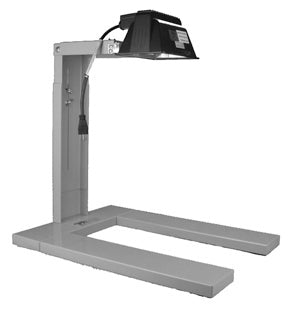 Basic Screen Halogen Exposure Light
<!button class="product-form--atc-button">Call to order:
480-899-9089
$150.00 List price. $25 boxing/packaging fee. Total = $175.00.
Please choose residential, ($35), or commercial, ($25), delivery for a flat rate shipping fee.
Catspit Basic Screen Halogen Exposure Light - The basic screen exposure light is for entry level T-shirt screen printer. This unit has a 250W Halogen light source, perfect for exposing silk screens on budget. This unit will tend to have longer exposure times but when used with a photopolymer emulsion the times may be lessened. You'll need a heavy non UV glass plate to place on top of your film positive when working with this unit. The glass plate is not included so it will not break during shipping. You can get this at your local glass shop. Standard 110v household outlet. 
SHIPPING INFO:
The factory is closed on Saturdays and Sundays as well as all major holidays. Supply orders ship within 3 to 5 business days. Equipment orders have a 2 to 3 week lead time to ship from the date your payment is confirmed and cleared. All standard shipping is provided by UPS ground. Items that ship freight may vary by carrier.
http://catspitscreenprintsupply.com/shipping-returns/
If you have questions, need rush service or personal details need to be arranged for equipment orders please call Catspit Productions. Do not call RANAR. We are a dealer for RANAR; if you call them direct you're making a purchase from RANAR not Catspit Productions. If you wish to support us and do business with us then please call us direct for all your equipment and supplies needs. We're happy to help out in any way. 480-899-9089
The warranty information is as follows on all RANAR equipment across the board:
3 years on mechanical. This includes the build of the press and the parts.
2 years on infrared panels for dyers and flash cure units.
1 year on all electrical work.