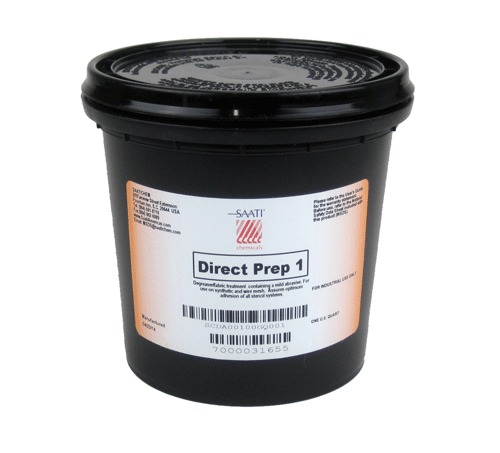 SaatiChem Direct Prep 1 Mesh Abrader - Quart
Quart - This is a mesh abrader designed to minimally rough new mesh for better emulsion to mesh adhesion. For use on brand new screens one time only. Use may use this product when you first put a new screen to work in the shop and that's all. Increase detail, resolution and durability of your stencil with brand new mesh. Ready-to-use, one-step mesh abrader, wetting agent and degreaser. Rinse thoroughly and allow to dry for emulsion coating as usual.
Applications: Abrade degrease, and prime new mesh for stencil making.
Characteristics: ‹ Micro-abrasive, powerful detergent and wetting agents in one liquid product.‹ Does not clog mesh openings features.‹ Roughens and prepares new monofilament synthetic fabric for superior emulsion adhesion.‹ Dyed color ensures complete rinse from mesh.‹ Highly recommended for use with capillary films benefits.‹ Reduces new mesh preparation to one highly effective step.‹ Eliminates fisheyes and streaks in coatings.‹ Maximizes exposure latitude and adhesion for both emulsion and capillary film stencils.‹ Optimizes resolution, definition and stencil life directions for use.
For new monofilament synthetic mesh, apply Saatichem Direct Prep 1 to both sides of a wet or dry screen. Scrub thoroughly with a stiff brush. Rinse the screen with a strong water spray to remove all traces of Direct Prep 1. Dry the clean freshly abraded screens and use immediately or store in a dust-free environment.