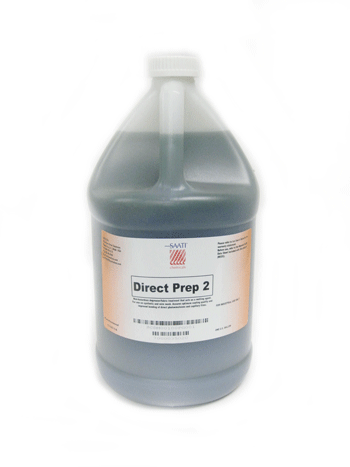 SaatiChem Direct Prep 2 Mesh Prep - Gallon
Gallon - Direct Prep2 is a screen mesh prep that also includes a wetting agent. This unique de-greaser/wetting agent will improve the wet strength of your stencils during development, giving you better detail and stronger stencils during print runs.
Applications: Prepares mesh for repeat stencil making. Ready-to-use liquid wetting agent and de-greaser.‹ After initial fabric roughening, use with each reuse of synthetic monofilament mesh. Powerful detergent and de-greaser in one step restores mesh after reclaiming.‹ Blue color ensures complete rinse from mesh.‹ Highly recommended for use with photopolymer direct emulsions. Eliminates fish-eyes and streaks in coatings. ‹Maximize exposure latitude and adhesion for both emulsion and capillary film stencils.‹ Optimizes resolution, definition and stencil life.

Directions for use: For new stainless steel mesh or for previously abraded synthetic monofilament mesh, apply SaatiChem Direct Prep 2 liberally to both sides of wet or dry screen with a brush or sponge. Rinse the screen with a strong water spray to remove all traces of Direct Prep 2. Dry the clean freshly prepared screens and use immediately or store in a dust-free environment.