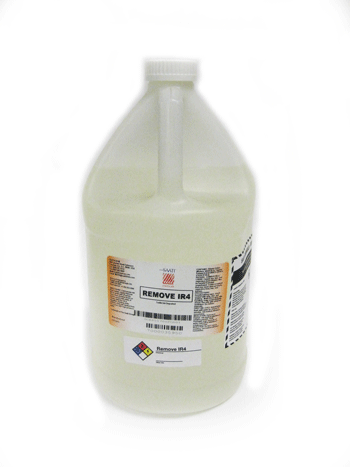 SaatiChem Remove IR4 Ink Wash - Gallon
GALLON - This is an ink degrader good for use with plastisol ink types. This product is safe on CA glue and safe to go down drains in your washout booth. It will not lock up plastisol-resistant emulsions. It is designed to be used after printing for screen cleanup where a strong solvent is desired to remove ink from the mesh before reclaiming. It may be applied to the screen in the washout booth and rinsed off with water.
Applications: Removes ink from screen with water.
Characteristics: ‹ For use to clean Plastisol and UV-Cured inks features/benefits.‹ Works well manually or in automatic systems.‹ Significantly reduces ink staining benefits.‹ Solubilize ink then rinse with water.‹ Low mesh staining.
Directions for use: Use a spatula to scrape excess ink from screen. Apply the product to squeegee side of the screen. Use a non-abrasive brush to scrub both sides of the screen until the ink is liquefied. Starting from the bottom, rinse ink residue from the screen with water.