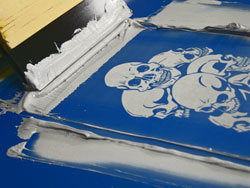 Textile Screen Printing 102
Textile Screen Printing 102
Saturday: 11AM to 3PM

This is a one on one personal training session. 2 people may attend for the price listed. That means a single individual or a team of 2 may attend the class for the same price. The "class" is scheduled as you purchase it.

$500 - Plastisol inks. The focus of this training session is about printing white inks on black shirts with or without flashing. This would apply to all high opacity colored inks. This class is about 4 hours of one on one hands on training and instruction. This will cover everything from screen making to printing the tee shirts. We will not create art or output film positives. Rather we will discuss film output and start with a ready film positive. This is personal instruction with Jonathan teaching you the entire process from making a screen to printing and curing the tee shirts. Take home the shirts you print.
You will also be introduced to the equipment needed to run a screen printing shop. You'll see how a side clamp press compares to a rear clamp press. Learn about the flash cure, exposure unit, belt dryer and more. If you are just getting started or thinking about getting started with screen printing tee shirts, then this training session is what you're looking for.
No video or audio recordings are allowed. Still images are allowed. This class may be scheduled every Saturday except major holidays. Individual or a couple included in pricing. Only one person can participate in the hands on instruction at a time.
Please pay for your class here by placing this item in your shopping cart and complete the checkout process. Once your payment is complete Jonathan will call you to schedule your class for the next first available session for your class. If you have questions about availability and the next class available please call us before you make your purchase: 480-899-9089