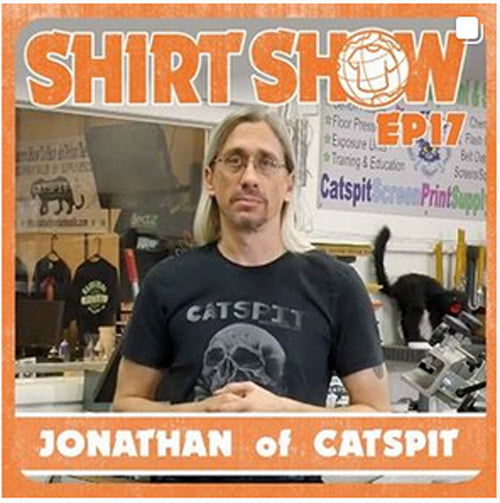 Shirt Show Interview With Dylan & Andy
This was a very cool video and podcast interview. Believe it or not, no one has ever asked me to do anything like this so these guys have a first. Check out their podcast and YouTube channel.
https://podcasts.apple.com/us/podcast/shirt-show/id1518319523
https://www.youtube.com/channel/UC9lfp1Xya5onwZuj-CRytIQ
"In this episode, Andy & Dylan chat with arguably one of the most well known names in the screen printing industry, Jonathan Monaco of Catspit Productions. Jonathan was one of the first people to start uploading screen printing how-tos on YouTube, and has been doing so since 2009. Jonathan was kind enough to share his story of how he was born into the industry, what made him first upload educational videos, and how he eventually became a screen printing supplier. We also discuss cars, printing hacks, and Andy's cheesy 80's movie childhood." Make sure to check out this interview today and thanks for watching/listening!
Screenprinting equipment and supplies:
Catspit Productions, LLC
Phoenix, Arizona
480-899-9089

http://CatspitScreenPrintSupply.com/

Setting new standards in old fashioned customer service. Catspit. Ranar. Seriously simple. TM

**The text, videos, photos, or other content of this post, website, vlog, blog or other internet venue is protected by copyright and trademark. No one is given any implied rights to reproduce this content anywhere else without prior written consent. You may not embed, repost, reproduce or duplicate this content in any way, shape or form on any other internet website or venue. This content is intended for Catspit Productions internet content only and is not available for reposting in any way, shape or form.**
 
#screenprinting #silkscreening #silkscreen #screen #print #printing #press #equipment #machine #printerlife #vlog #chemicals #emulsion #degreaser #hazeremover #meshprep #squeegee #plastisolink #waterbased #ink #scoopcoater #inkjetfilm #filmpositive #manual #rotary #rotarypress #benchpress #flashcure #beltdryer #infrared #conveyor #dryer #oven #exposureunit #lighttable #printed #garment #teeshirt #printinglife #printlife #startup #starter #kits #packages #graphic #industrial #vacuumtable #logowear #design #fashion #teeshirt #hoodie #Ranar #AWT #RapidTag #Hix #RhinoTech #Tekmar #Saati #AlbaChem #ImageTech #Saga #ebay #Phoenix #Arizona #Tempe #Mesa #Gilbert #Chandler