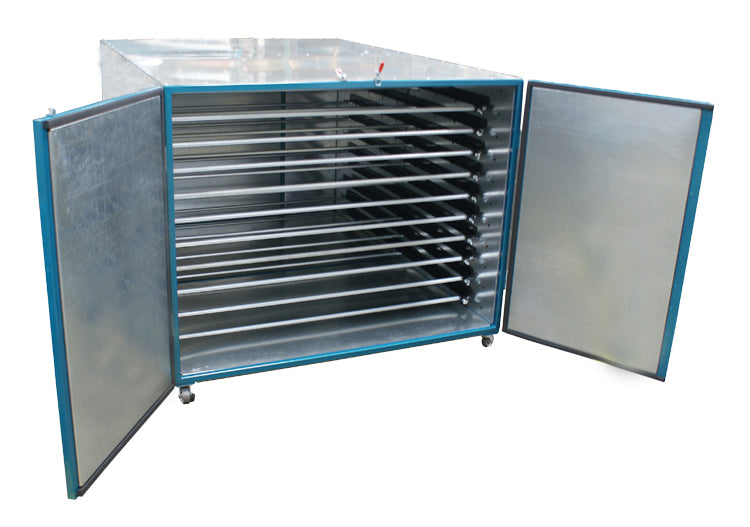 AWT Dry-It Horizontal Screen Drying Cabinet
<!button class="product-form--atc-button">Call to order:
480-899-9089
A.W.T.'s Dry-It Series of Screen Drying Cabinets features fully-enclosed, well-insulated units. The drying compartment quickly heats to the specified temperature, minimizing power consumption and operating costs. All Dry-It units include complete temperature controls with a standard temperature range up to 120°F (49°C); higher temperatures are available.

Filtered, heated air moves through the cabinet gen¬tly and evenly, from one side to the other. The heated, moisture-filled air is then forced out of the drying com¬partment. No moisture is recycled back into the unit. Screens are dried evenly and remain dust-free.

All units feature steel construction and heavy-duty casters for workshop mobility. An optional all stainless-steel lining is available.

ADVANTAGES
Ten adjustable shelves.
Fully insulated to minimize energy costs.
Quickly reaches maximum temperature.
Clean, filtered air keeps debris out, limiting pinholes.
Digital temperature readout.
Standard temperatures to 120°F (49°C); higher temperatures available.
Heavy-duty steel construction.
All stainless-steel lining available.
Easy access for cleaning and servicing.
Heavy-duty casters for mobility.

Standard Features
Digital temperature readout.
Air-intake filter.
Fully insulated cabinet.
Exhaust removes moisture.
Standard temperature up to 120°F (49°C)
Heavy-duty casters.

Using a screen drying cabinet improves your screen qual¬ity and reduces your overall labor costs. In the open air, dust and other foreign matter will settle on the screen, creating flaws in the exposure process. By eliminating these prob¬lems and decreasing the need to touch-up and fill pinholes, the Dry-It™ Screen Drying Cabinet provides employees valuable time to perform other tasks. Each Dry-It Cabinet provides the required even heat distribution and the perfect temperature to dry screens evenly and dust free.