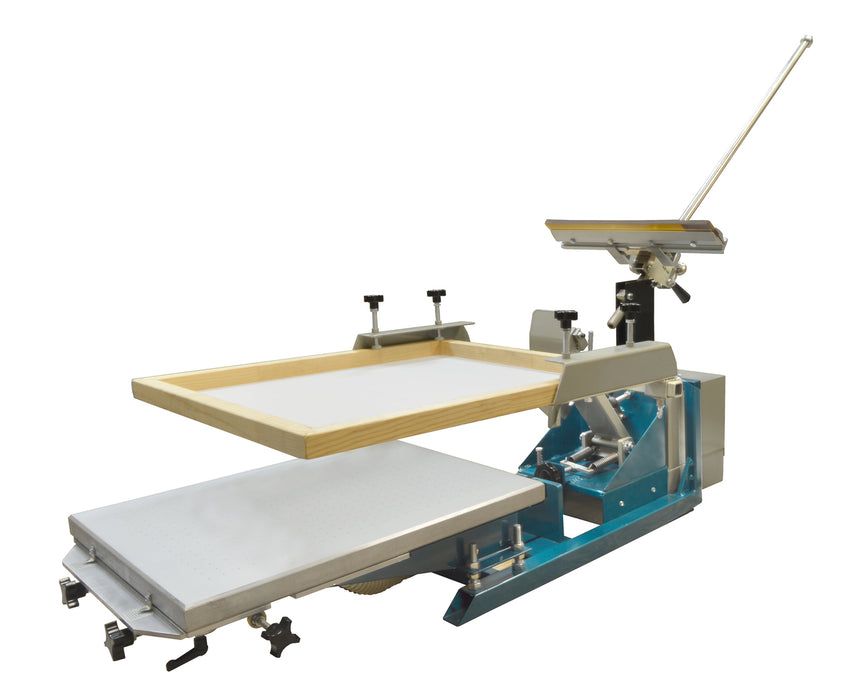 SE -1525M Screen Eze Vacuum Tabletop Graphic Press W/Joystick
<!button class="product-form--atc-button">Call to order:
480-899-9089
SE -1525M & SE-JS17 - Screen-Eze (table size) With Micro-registration PLUS Joy Stick with 17" squeegee handle. 15" x 25" maximum print area. 19" x 29" table size. Maximum frame size 25" x 34". 110V, 1 Ph, 60 Hz.
Crating $110.00
A.W.T.'s versatile Screen-Eze tabletop printing press is engineered for quality hand-printing. Suitable for short-run decals, labels, 3-D OEM Parts, membrane switches, compact disks, binders, and ad specialties, this precision machine is loaded with performance features; Horizontal screen lift provides optimum ink control, while the lock-in head assures exact registration for multi-color jobs. Adjustable off-contact provides additional control over print quality and allows dimensional printing. Adjustable side frame clamps support screen frames to ensure registration repeat-ability. And the all-aluminum vacuum table means hand-printing can deliver the same quality as a flat-bed press.
• Horizontal Screen Lift With Adjustable Tension
• Eccentric Roller Bearings Lock-In Printing Head
• Micro-Registration System
• All-Aluminum Vacuum Bed
• Adjustable Off-Contact
• Vacuum Table Leveling System
• Side Clamps For Maximum Screen Frame
Support
This is an awesome bench top graphic industrial screen printing machine complete with micro registration and leveling vacuum table. If you want the best of what a graphic press has to offer but in a small scale manual version, then consider this graphic press for your more critical graphic printing jobs. This is the machine to choose when the printing you're doing is critical in any way. For basic posters you can use the Ranar 1 color bench top graphic press. But for any printing where the job has critical and detailed requirements for ink deposits, measurements, print location, print size, and/or any print specifications, this machine is perfect.
See the standard version of this press for more images of the press itself: http://catspitscreenprintsupply.com/se-1525m-screen-eze-vacuum-tabletop-graphic-press/