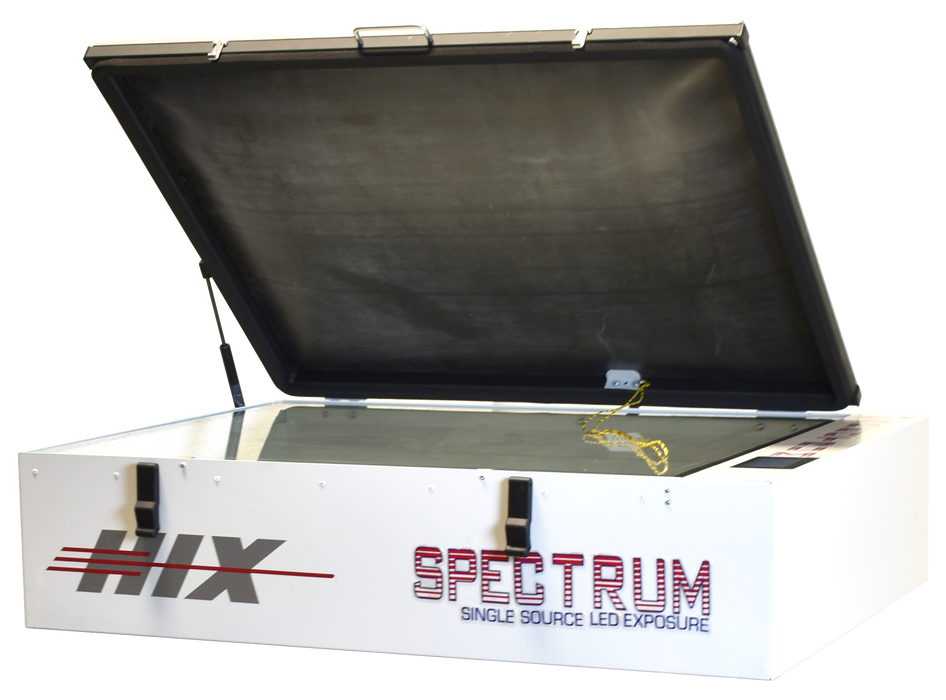 HIX® Tabletop Spectrum LED Exposure Unit 120v
<!button class="product-form--atc-button">Call to order:
480-899-9089
The NEW HIX® Spectrum LED Tabletop Exposure unit is our state-of-the-art single light source multi spectrum LED table-top exposure unit. This LED array requires no warm up time and creates quality, detailed exposure of the screens. 120v/60Hz, 540 watts, 4.5 amps.
Featuring a single LED panel with a battery of different LED chips that emit in the 370-410NM UV wavelength range so that our "Spectrum" exposure unit will work easily on any "type" of emulsion (Pure Photopolymer, Diazo, or Dual cure).

KEY FEATURES:
The Spectrum LED Exposure has single source long life LED array. It's single source multi spectrum LED light source dramatically reduces the curing time to as low as 8-12 seconds with no warm up time. It can handle the widest variety of popular emulsions currently on the market today whether that is "Pure Photopolymer SBQ" or " Diazo Dual cure".

DISPLAY:
Easy to read integrated New color LCD touchscreen controller is a centrally controller for the vacuum and exposure time. This new display features multiple presets for different jobs along with built-in safety features to prevent accidental exposure.

DESIGN:
The Spectrum LED Exposure has an easy lift-assist gas shock. Once the cycle is started the automatic vacuum pull down begins and automatically releases at the end of cycle. The durable deep draw rubber blanket, table top design accommodates screen and plate size 23" x 31".