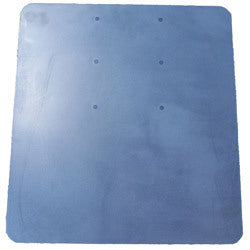 10"x12" Aluminum Metal Pallet w/Bracket
This is a 10x12 inch aircraft grade aluminum pallet for screen printing presses. Polished surface with recessed screw holes for bracket mounting. This pallet includes the RANAR multi-color press bracket for 3x1.5 inch rectangular tube pallet arms. Attach bracket with special screws included.
**For Ranar presses ONLY. Brackets are specific to the brand of press. Although you may have the same size pallet arm, the bracket may not put the pallet at the correct height to meet the screen.