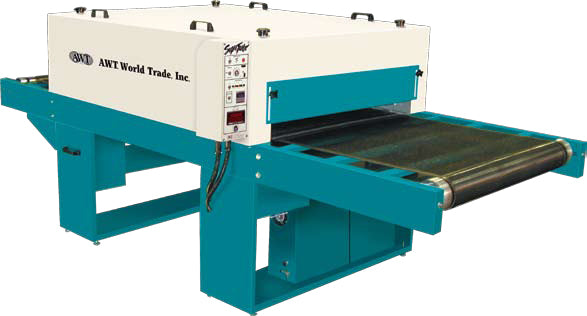 AWT Super Turbo 36 Conveyor Dryer 208-240/1 Ph, 60 Hz
<!button class="product-form--atc-button">Call to order:
480-899-9089
AWT Super Turbo 36 Conveyor Dryer 208-240/1 Ph, 60 Hz - An engineering masterpiece and a mainstay of our Super-Turbo™ dryer series, the A.W.T. Super-Turbo uses a dual airflow management system for complete control over curing conditions. To prevent scorching, the air recirculating system continuously directs airflow for uniform heat distribution throughout the drying chamber. Supplemented by intake and exhaust controls for fine tuning of chamber conditions, the Super-Turbo's infrared curing
system can also be used for skimming, with limited applications for water-based inks and dyes.

Advantages:
• Energy-saving design keeps heat in, operating
  costs low.
• Low-maintenance unit requires minimal setup
• Easy heat panel access reduces panel height
  adjustment time.
• Outside-access filter system makes cleaning easy
• Operator-friendly control panel mounts on either
  dryer side.
• Uniform airflow prevents scorching, keeps heat
  consistent.
• Easy conveyor belt tracking keeps production
  moving.
• Specially formulated belt coating withstands
  heat, extends belt life.
• Sliding chamber doors adjust quickly for different
  substrate thickness.
• Adjustable fresh air intake and exhaust for maximum
  airflow control.