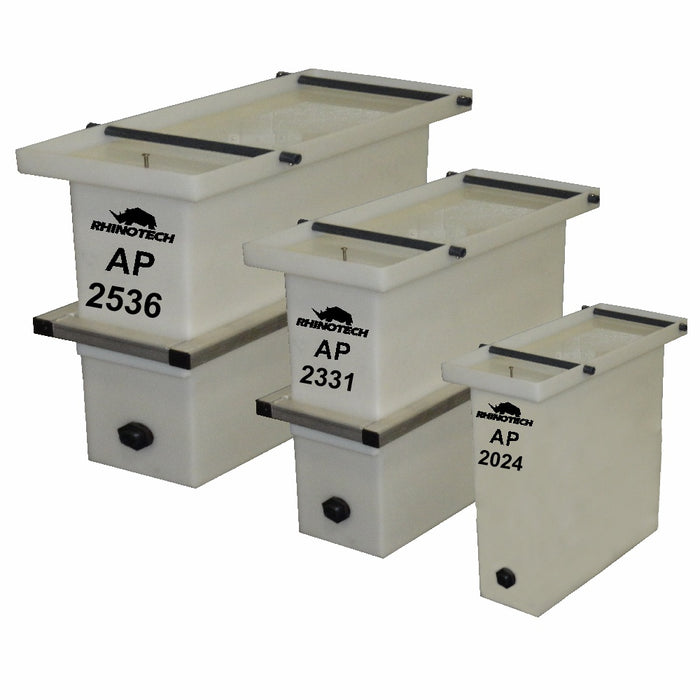 RhinoClean Dip Tank AP2331 - 33" x 14" x 24" 55 Gallon
<!button class="product-form--atc-button">Call to order:
480-899-9089
AP2331 - 33" x 14" x 24" (55 gal.) *This is the second smallest dip tank pictured in the product image. Starting at $720 plus shipping.

The RhinoClean™ Dip Tank / Emulsion Removal Systems are designed for fast, safe and efficient removal of screen printing stencils. Dip and soak tanks effectively remove all types of emulsion from the screen frame. It's easy; once the emulsion is soft simply remove with high pressure washer. These dip tanks may also be sued with ink solvents for cleaning inks off screens prior to reclaiming in the emulsion remover dip tank.
AP2331 / 33" x 14" x 24" (55 gal. Capacity) Holds 8 Screens 1.5″ Profile
Features of the Dip Tank:
Polyethylene Construction
One piece molded construction
Ideal for use with 2 in 1 ink and emulsion removers
Drain Spigot
Multi Screen Units
Top Loading Design
Hold Down Lid
Tank support band on specific models
Using a RhinoClean™ Dip Tank / Emulsion Removal System helps reduce chemical use by cutting down on the amount needed; it saves time and effort. The system helps meet compliance by minimizing the volume of chemicals going down the drain. Always check with local City and State EPA or environmental regulations for proper waste disposal requirements in your area.