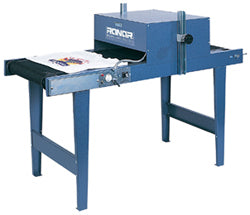 RANAR DX-200 Scamp DX200 5' Infrared Belt Dryer 120v
<!button class="product-form--atc-button">Call to order:
480-899-9089
List price $2300.00 plus $205 crating/boxing fee = $2505.00 to commercial addresses.
Residential and school/college delivery = $80.00.
Lift gate fee = $95.00.
RANAR DX-200 Scamp DX200 5' Infrared Belt Dryer 120v - Manufactured by RANAR as the standard for the Screen Printing industry, the DX-200 is a lot of dryer and performance in a small package. Commonly known as the "Scamp Dryer", this model is perfect for the entry-level screen printer. Its compact size (5' long deck x 18" belt) and convenient 110v plug make it ideal for a home business or a small commercial store front, and the available caster upgrade make the unit perfect for portable printing on site. This dryer's standard features include variable speed control, variable temperature control, adjustable panel height and angle. These three adjustments combined give you complete control over the curing of your garments. Additionally, the oven hood can also be removed and the panel tilted to allow for perfect curing of silk screened caps. Standard on the Scamp Dryer is a 16x16 110v panel which yields approximately 120 shirts per hour. The DX-200 comes with a standard Ranar 3-2-1 warranty: 3 years mechanical, 2 years heating elements, and 1 year electrical components. This dryer is boxed and on a pallet for shipping, and requires minimal assembly upon arrival. 
The DX200 Scamp conveyor dryer is perfect for the entry level silk screen printer curing plastisol ink on t-shirts and garments. This affordable little conveyor dryer can cure plastisol screen printing ink at a rate of 120 shirts per hr, making your garage or extra room a capable production floor.
Available in both 120 volt, it includes many features that other manufacturers don't offer: an even heating 16 x 16 inch panel, adjustable panel height ranging from 0 to 6", temperature control (0 – 600° F) and belt speed control (0 - 42 ft per minute), and removable insulated oven hood with a heater that angles for curing caps.
Whether you're printing t-shirts, sweats, hoodies, jackets, or hats, this conveyor dryer is 24" wide and 60" long which allows plenty of loading space with an 18" inch wide fiberglass belt. This would make a great addition to a small screen printing shop, home based business, or school.
Add optional wheels for on-site screen printing such as car shows, county fairs and special events. This unit is portable enough to run with a small 2000 watt generator.
RANAR manufactures the DX200 Scamp tee shirt dryer for the entry level screen printer. This conveyor dryer is one of the best options on the market in terms of price and versatility. Comes standard as a 120v unit. It has many features that other manufacturers don't offer such as adjustable heater height, temperature, belt speed, and a removable oven hood for curing caps. This 120v unit has an industrial male receptacle plug.
5 Feet long conveyor
25 inches of t-shirt loading
18 wide Teflon coated fiber glass belt
Adjustable belt tracking
Insulated oven 23" long
Adjustable panel height 0-6"
16" x 16" I.R panel 1600 watts
Heater control 0-600º F
Belt speed control 0-42 ft per min.
Minimum assembly required
UL listed parts
Made in the U.S.A
Unit Specifications:
Overall Length: 60"/5'
Oven Length: 23"
Voltage/Amps: 120/17
Heater panel: 16"x16", 1600 Watts
Overall Height: 42"
Belt Height: 30"
Entrance Length: 26"
Exit Length: 11.5"
Panel Height: 1" - 6"
Entrance/Exit Clearance: 4.75"
Max Speed: 42' per min.
Max Heat: 600° F
Belt Width: 18"
Conveyor Width: 24"
Overall Width: 18"
Unit Weight: 117 lbs.
Shipping Weight: 168 lbs.
Shipping Dimensions:
1 Pallet
65" x 29" x 23"
Whether you're silk screening t-shirts, sweats, hoodies, jackets or hats. This conveyor dryer is 24" wide 60" long with a 18" inch wide belt. With production rates of 50 to 65 pieces per hour screen printed with plastisol ink.
This is a 120v industrial unit. It has an industrial 3 prong male plug for 20 amp breakers. In homes these 20 amp breakers are often found in the garage or kitchen. It is recommended and suggested that you run this on a dedicated 20 amp circuit breaker however it has been known to run effectively on a household 15 amp breaker when dedicated and relatively new. A converting cord may be made by an electrician or purchased online to convert the industrial 120v plug to a standard household plug.
SHIPPING INFO:
The factory is closed on Saturdays and Sundays as well as all major holidays. Supply orders ship within 3 to 5 business days. Equipment orders have a 2 to 3 week lead time to ship from the date your payment is confirmed and cleared. All standard shipping is provided by UPS ground. Items that ship freight may vary by carrier.
http://catspitscreenprintsupply.com/shipping-returns/
If you have questions, need rush service or personal details need to be arranged for equipment orders please call Catspit Productions. Do not call RANAR. We are a dealer for RANAR; if you call them direct you're making a purchase from RANAR not Catspit Productions. If you wish to support us and do business with us then please call us direct for all your equipment and supplies needs. We're happy to help out in any way. 480-899-9089
The warranty information is as follows on all RANAR equipment across the board:
3 years on mechanical. This includes the build of the press and the parts.
2 years on infrared panels for dyers and flash cure units.
1 year on all electrical work.
***Please Note: The Teflon belts are not under any warranty by RANAR or Catspit Productions, LLC. This is due to the ability of the user to mis-track the belt or run the belt too tight causing damage to the belt and/or belt motor. Do NOT overtighten you belt. When in doubt run it just tight enough to move and track but no more.