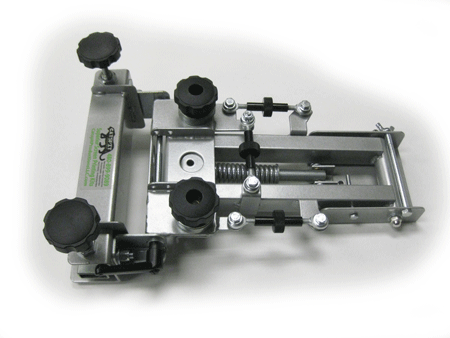 4 Color Micro Registration Upgrade For Bench Presses
<!button class="product-form--atc-button">Call to order:
480-899-9089
This is the option to have micro registration on the Ranar 4 color bench top or table top presses. What this actually means is we install Vista print heads on your bench press which have the micro registration. It's a much heavier, beefier print head. You must order this upgrade when you initially purchase the press. You cannot add micro registration to existing non micro units unless you buy the heads for full price at $455 each. This is an upgrade price for brand new press purchases. If you have any questions, please call us before placing your order.
There are adjustments for screen angle, off contact, lift tension, and microregistration. All of our presses have our patented adjustable screen lift spring system.
Lifetime guarantee only from Catspit - We guarantee all Ranar screenprinting presses to last a lifetime. Catspit Productions guarantees all parts, with the exception of MDF pallets, for a lifetime for the original owner if you buy through Catspit Productions. We do not guarantee or warrantee Ranar presses bought through Ranar or other dealers.
SHIPPING INFO:
The factory is closed on Saturdays and Sundays as well as all major holidays. Supply orders ship within 3 to 5 business days. Equipment orders have a 2 to 3 week lead time to ship from the date your payment is confirmed and cleared. All standard shipping is provided by UPS ground. Items that ship freight may vary by carrier.
http://catspitscreenprintsupply.com/shipping-returns/
If you have questions, need rush service or personal details need to be arranged for equipment orders please call Catspit Productions. Do not call RANAR. We are a dealer for RANAR; if you call them direct you're making a purchase from RANAR not Catspit Productions. If you wish to support us and do business with us then please call us direct for all your equipment and supplies needs. We're happy to help out in any way. 480-899-9089
The warranty information is as follows on all RANAR equipment across the board:
3 years on mechanical. This includes the build of the press and the parts.
2 years on infrared panels for dyers and flash cure units.
1 year on all electrical work.