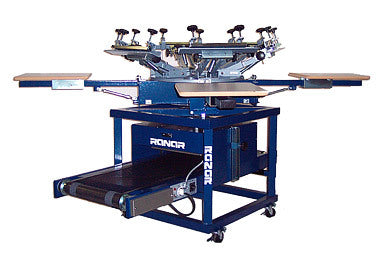 6 Color, 4 Station Cruiser Screen Printing System
<!button class="product-form--atc-button">Call to order:
480-899-9089
List pricing $5995.00 plus $370 crating fee. Total = $6365.00.
Residential/school or college delivery fee - $100
Commercial delivery fee - $75
Lift gate fee - $95
6 Color, 4 Station Cruiser Screen Printing System - Space Saving Screen Printing Machine Combo. Starting a small business or adding silk screen printing to an existing embroidery, ad specialty and promotional products shop brings about the same challenge: limited space and oversized machines. 
Most are usually able to find a corner of their store front shop, home garage, spare room or studio for a 4 or 6 color press and a flash dryer, but when it comes to curing t-shirts, there doesn't seem to be any room to add a conveyor dryer. The Cruiser is the space saving solution for you.
With a conveyor dryer that fits under, and well within the 8' diameter footprint of a 4 or 6 color press, this combo allows you to take your little corner and turn it into a full production area.
As your business grows you may add a second t-shirt printing press and large conveyor dryer to the mix and you'll still be able to take advantage of the cruiser as a sample or small run production center.
There are other all in one printer/dryer combos in the market which combine a silk screening press and a conveyor dryer, but will often have you sacrifice in price or quality.
On the one end, many products claim to be affordable, but will include low quality, bench-top, t-shirt printing press mounted on a dryer. They leave out important features such as rotary platens or traditional registration systems with roller bearings and steel key. Instead, they use less than ideal micro-registration systems that leave you frustrated setting up jobs. Beware of nylon bolts that wear down and require adjustment in the middle of a job. Rest assured using a bearing and key system that your multi colored designs stay registered from start to finish
Standard with Ranar's vista series screen printing presses; traditional precise micro registrations make your screen-printing experience fun and full of joy; stick with micro adjusters that you know work best, and don't settle for lesser systems or hidden costs of "only" $50 more per head (or color).
Features
Micro, screen angle, off contact adjustments
Perfect roller Bearing Registration
Adjustable screen tension
Heat Control
Speed Control
Adjustable Dryer Height
On the other end, some equipment manufacturers will offer you a high quality manual printing press and a econo conveyor dryer, but will charge you the cost of one of our complete shop packages for just one piece of equipment.
We give you the best of both worlds: high quality screen printing equipment at an affordable price. Every piece of equipment is made in the USA.
Combines the Ranar's Vista Series entry level screen printing press and our popular 5 ft long, little conveyor dryer, the DX-200 Scamp which fits under the press for an economical, PORTABLE SPACE SAVING money making machine ON WHEELS!
Features sturdy steel tubular construction for the stand, smooth heavy duty roller bearing rotation, perfect roller bearing registration along with all the standard features of the Vista Series including adjustments for micro registration, off-contact, and screen angle.
SHIPPING INFO:
The factory is closed on Saturdays and Sundays as well as all major holidays. Supply orders ship within 3 to 5 business days. Equipment orders have a 2 to 3 week lead time to ship from the date your payment is confirmed and cleared. All standard shipping is provided by UPS ground. Items that ship freight may vary by carrier.
http://catspitscreenprintsupply.com/shipping-returns/
If you have questions, need rush service or personal details need to be arranged for equipment orders please call Catspit Productions. Do not call RANAR. We are a dealer for RANAR; if you call them direct you're making a purchase from RANAR not Catspit Productions. If you wish to support us and do business with us then please call us direct for all your equipment and supplies needs. We're happy to help out in any way. 480-899-9089
The warranty information is as follows on all RANAR equipment across the board:
3 years on mechanical. This includes the build of the press and the parts.
2 years on infrared panels for dyers and flash cure units.
1 year on all electrical work.