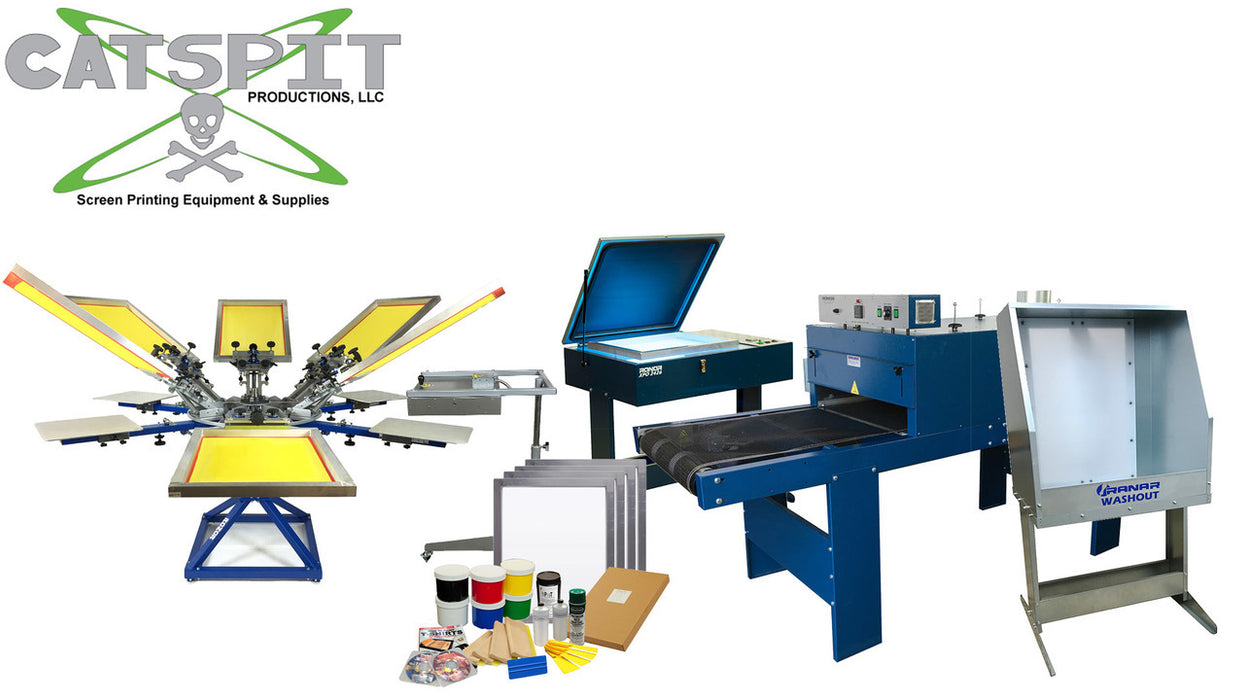 Cougar Silk Screen Printing Kit
<!button class="product-form--atc-button">Call to order:
480-899-9089
Cougar Silk Screen Printing Kit - This kit is at list pricing plus boxing or crating fees. Please contact us for a pricing spreadsheet breakdown.
List pricing - $13,088.43
Commercial delivery fee - $90
Residential or school delivery fee - $160
Lift Gate fee - $95
The Cougar screenprinting package for tee shirts comes with the Elite 6/4 rotary press and the dryer is rated at 200 shirts per hour. The vacuum top exposure unit will expose 20x24 screens or smaller. The supplies included with this set up are designed to get you going and learning how to use your new equipment. You will find other supplies and accoutrements may be useful as you gain experience. 
RANAR 6 Color / 4 Station Rotary Press With Micro Registration E-6400
Ranar XPO-2426 Vacuum Exposure Unit 110v
Ranar D-1820 18 X 20 Infrared Flash Cure Unit w/heat control 220v
Ranar Curestar 4000 Infrared 8' Belt Dryer 4000 watt 220v
RANAR Econo Back Light Washout Booth 110v
Junior Supplies Package:
6 - Aluminum Screens 20"X24" 110, 125, 160 mesh
1 - Quart SaatiChem Textil PC Blue Emulsion
6 - Quarts All-Tex Plastisol Ink, white, black, red, blue, yellow, green
1 - Pack Test Pellons 100 Sheets (White)
1 - 1 Pack 8.5" X 11" Ink Jet Film Water Proof Film 50 Sheets
1 - 16" Scoop Coater
1 - 1 - Quart Mel Mel PTC3 Plastisol Ink Solvent
4 - Small Plastic Ink Scoops
4 - Squeegees 14" 70 durometer
1 - Quart Mel Mel LER3 Emulsion Remover
1 - Can AlbaChem Flash Tack 1786
1 - AlbaChem Citrus Screen Opener
1 - Quart Mel Mel 700 Mesh Degreaser
1 - Roll Screen Tape
INCENTIVES:
Lifetime guarantee only from Catspit - We guarantee all Ranar screenprinting presses to last a lifetime. Catspit Productions guarantees all parts, with the exception of MDF pallets, for a lifetime for the original owner if you buy through Catspit Productions. We do not guarantee or warranty Ranar presses bought through Ranar or other dealers.
No sales tax on many out of State orders - No sales tax on all equipment purchases out of or in Arizona State. We only charge sales tax for California on equipment and supplies. Sales tax is charged for supplies in Arizona but not on equipment. We're still small enough to not have to pay taxes on out of state internet sales. Those tax savings are your savings. Sometimes doing business with a smaller company has its sales tax benefits.
NO credit card processing fees! While other dealers and sellers of screen printing equipment charge you a fee for using a credit card, Catspit Productions does not. Use your credit card freely without being hit with a big surcharge in processing fees. Save hundreds if not thousands!
Free technical support for all - Whether you buy from us or not feel free to give Jonathan a call if you need help with anything. That's what we do here. We teach and educate first. Helping you with your equipment and supplies purchases comes secondary to that. An informed customer is a happy customer. And all equipment purchases come with lifetime support. Just give us a call.
Quality, durability, reliability - Our equipment uses more welds than bolts. Even on the Vista press which is modular and up-gradable we have more welds than many of the "erector set" type equipment that you see today. Ranar has been building screenprinting equipment for over 30 years and they never bought out any other plans, designs or brand names to call their own. We use 100% original designs that have been proven over the years through usage by screen printers.
SHIPPING INFO:
The factory is closed on Saturdays and Sundays as well as all major holidays. Supply orders ship within 3 to 5 business days. Equipment orders have a 2 to 3 week lead time to ship from the date your payment is confirmed and cleared. All standard shipping is provided by UPS ground. Items that ship freight may vary by carrier.
http://catspitscreenprintsupply.com/shipping-returns/
If you have questions, need rush service or personal details need to be arranged for equipment orders please call Catspit Productions. Do not call RANAR. We are a dealer for RANAR; if you call them direct you're making a purchase from RANAR not Catspit Productions. If you wish to support us and do business with us then please call us direct for all your equipment and supplies needs. We're happy to help out in any way. 480-899-9089
The warranty information is as follows on all RANAR equipment across the board:
3 years on mechanical. This includes the build of the press and the parts.
2 years on infrared panels for dyers and flash cure units.
1 year on all electrical work.