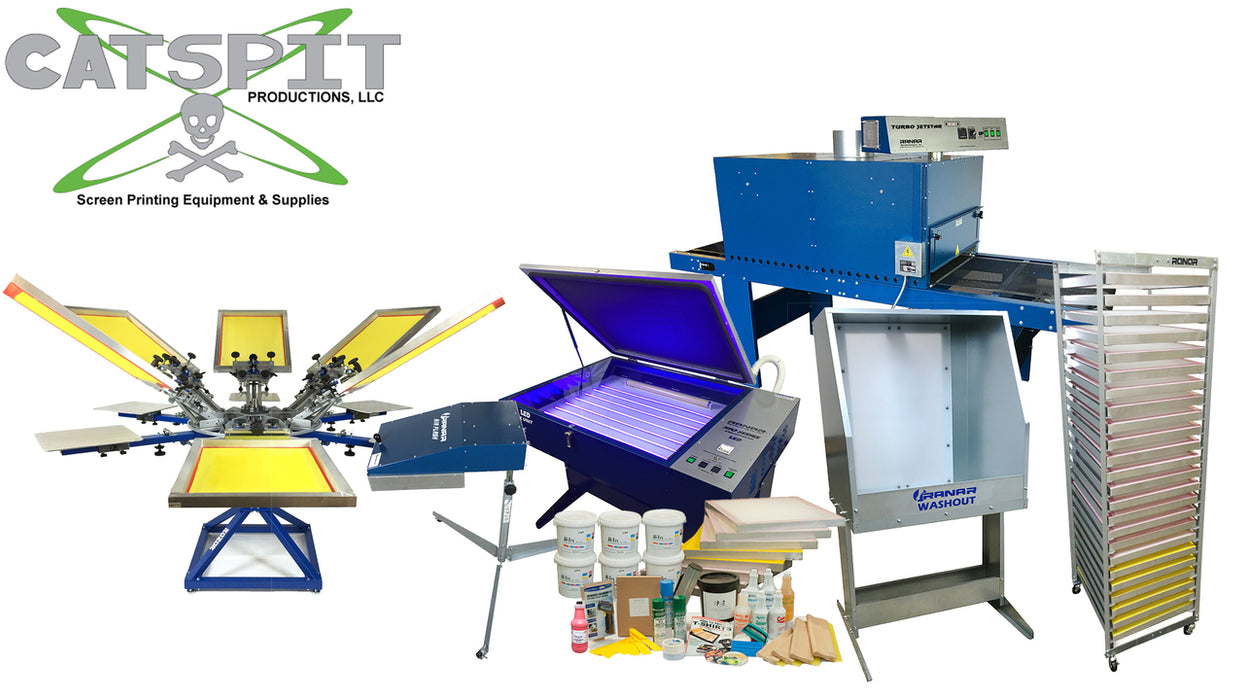 Jaguar Silk Screen Printing Package
<!button class="product-form--atc-button">Call to order:
480-899-9089
Jaguar Silk Screen Printing Package - This kit is at list pricing plus boxing or crating fees. Please contact us for a pricing spreadsheet breakdown.
List pricing - $20,272.36
Commercial delivery fee - $90
Residential or school delivery fee - $160
Lift Gate fee - $95
The plastisol or water based capable Jaguar screen printing package comes with the top of the line Elite 6/6 floor press. This kit will produce over 300 shirts per hour with a forced hot air conveyor dryer. The flash cure is also forced air facilitating water based printing on press. The vacuum top exposure unit will bring added precision to your new shop. This supplies kit will give you ample inks, emulsion and a decent amount of accessories. You'll need to replenish the chemicals for screen making along the way. You'll need some minor tools and related items with this one. 
Ranar 6 Color 6 Station Elite Floor Press E6600
RANAR XPO-2331-LED VP Series Touch Screen Vacuum Exposure Unit 120v
DA2020 Forced Air Infrared Flash Cure 220v
DT-422 Turbo Jet-Star Infrared Jet Air Belt Dryer 220v
Econo Back Light Washout Booth 32"w x 24"d x 63"h 110v
Welded Adjustable Screen Rack
5 - Gal All Tex Plastisol Ink White
5 - Gal All-Tex Plastisol Ink - Black
1 - Gal All-Tex Plastisol Ink - Brite Blue
1 - Gal All-Tex Plastisol Ink - Red
1 - Gal All-Tex Plastisol Ink - Green
1 - Gal All-Tex Plastisol Ink - Yellow
1 - Gal SaatiChem Textil PC Blue Emulsion
1 - Gallon Mel Mel LER Emulsion Remover
1 - Gallon Mel Mel PTC3 Plastisol Ink Solvent
1 - Gallon IR4 Ink Wash
1 - Quart Direct Prep 1
1 - Gallon Direct Prep 2
1 - Gallon HR5 Haze Remover
12 - Aluminum 20x24 Screens (4-110, 4-160, 2-200, 2-230)
6 - Squeegees 14"
6 - Large Ink Scoops
6 - Small Ink Scoops
1 - Scoop Coater 16"
1 - Pack 100 Sheets Test Pellon Black
1 - Pack 100 Sheets Test Pellon White
1 - Pack 11x17 Ink Jet Film WP (100pcs)
4 - Can AlbaChem Flash Tack 1786
2 - AlbaChem Citrus Screen Opener
2 - Roll Screen Tape
1 - Tekmar Spot Cleaning Gun
1 - Gallon Spot Cleaning Fluid
INCENTIVES:
Lifetime guarantee only from Catspit - We guarantee all Ranar screenprinting presses to last a lifetime. Catspit Productions guarantees all parts, with the exception of MDF pallets, for a lifetime for the original owner if you buy through Catspit Productions. We do not guarantee or warranty Ranar presses bought through Ranar or other dealers.
No sales tax on many out of State orders - No sales tax on all equipment purchases out of or in Arizona State. We only charge sales tax for California on equipment and supplies. Sales tax is charged for supplies in Arizona but not on equipment. We're still small enough to not have to pay taxes on out of state internet sales. Those tax savings are your savings. Sometimes doing business with a smaller company has its sales tax benefits.
NO credit card processing fees! While other dealers and sellers of screen printing equipment charge you a fee for using a credit card, Catspit Productions does not. Use your credit card freely without being hit with a big surcharge in processing fees. Save hundreds if not thousands!
Free technical support for all - Whether you buy from us or not feel free to give Jonathan a call if you need help with anything. That's what we do here. We teach and educate first. Helping you with your equipment and supplies purchases comes secondary to that. An informed customer is a happy customer. And all equipment purchases come with lifetime support. Just give us a call.
Quality, durability, reliability - Our equipment uses more welds than bolts. Even on the Vista press which is modular and up-gradable we have more welds than many of the "erector set" type equipment that you see today. Ranar has been building screenprinting equipment for over 30 years and they never bought out any other plans, designs or brand names to call their own. We use 100% original designs that have been proven over the years through usage by screen printers.
SHIPPING INFO:
The factory is closed on Saturdays and Sundays as well as all major holidays. Supply orders ship within 3 to 5 business days. Equipment orders have a 2 to 3 week lead time to ship from the date your payment is confirmed and cleared. All standard shipping is provided by UPS ground. Items that ship freight may vary by carrier.
http://catspitscreenprintsupply.com/shipping-returns/
If you have questions, need rush service or personal details need to be arranged for equipment orders please call Catspit Productions. Do not call RANAR. We are a dealer for RANAR; if you call them direct you're making a purchase from RANAR not Catspit Productions. If you wish to support us and do business with us then please call us direct for all your equipment and supplies needs. We're happy to help out in any way. 480-899-9089
The warranty information is as follows on all RANAR equipment across the board:
3 years on mechanical. This includes the build of the press and the parts.
2 years on infrared panels for dyers and flash cure units.
1 year on all electrical work.