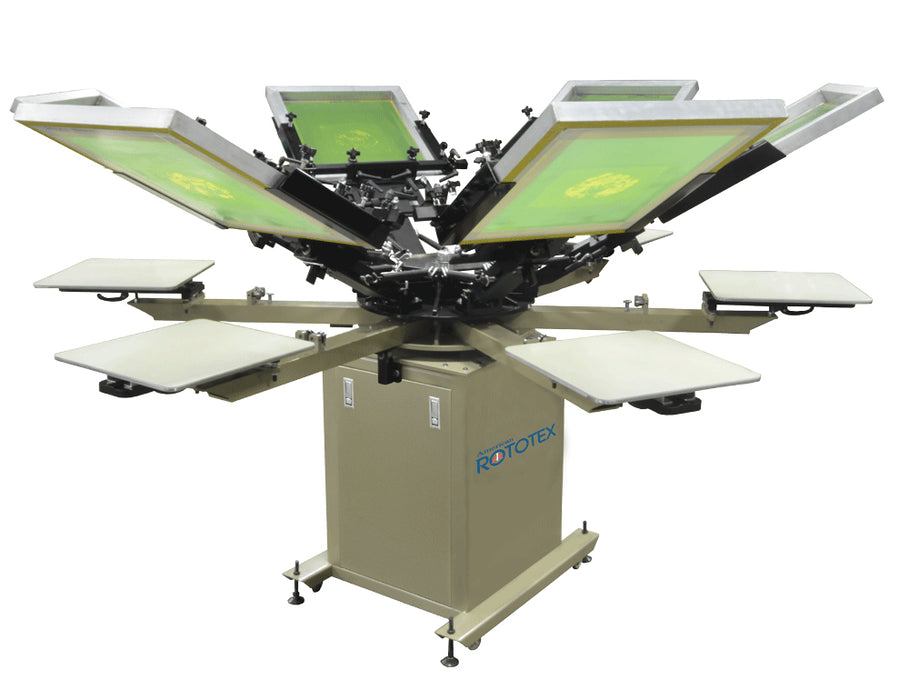 King Of The Jungle Screenprinting Shop Package
<!button class="product-form--atc-button">Call to order:
480-899-9089
King Of The Jungle Screenprinting Shop Package (SIDE CLAMP)
- AWT Rototex II 6 Color 6 Station Rotary Press
- HIX® Spectrum LED Exposure Unit 120v
- Hix SH-1818 Auto Flash Cure Unit 120v
- HIX® 2408 Value Series Graphics Conveyor Dryer 220v
- NorTech Screen Drying Rack 20x24/23x31
- RhinoTech Screen Drying Cabinet 25-2024RE

Rule the screenprinting jungle with this predatory screen printing package. Take no prisoners and eat up the competition. Featuring the 6 color, 6 station AWT Rototex II Rotary Press side clamp screen printing press. Designed for the toughest print shops around, American M&M's Rototex™ II Manual Textile Printer offers the perfect combination of production versatility and operator convenience. Built to give you years of dependable, accurate service, this rugged printer features registration accuracy of ±.002" and has the capacity to accept large frames. It may also be used by automated print shops as a sample or proof press, freeing up valuable production time on larger, automatic machines. For flexibility, reliability, and performance in a manual textile printer, no other machine can equal the Rototex II.
This kit also includes the highly finished build of the Hix Spectrum single source LED tabletop exposure unit. The flash cure is from Hix and it's a wicked cool auto flash with a heat sink. This unit has an infrared panel flash head that moves over the pallet and back into a resting place over the heat sink. Also we provide the Hix 2408 belt dryer with infrared curing power. One of the only screen printing equipment builders that makes their own infrared panels. Included is the very cool NorTech screen drying rack in this super cool equipment package. Finally we add the RhinoTech screen drying cabinet. High quality equipment backed by the Catspit brand.

Please contact Jonathan for a customized quote including freight fees and supplies. Once you contact us, Jonathan will give you a call and finalize details for your quotation.

INCENTIVES:
No sales tax on many out of State orders - No sales tax on all equipment purchases out of or in Arizona State. Sales tax is charged for supplies in Arizona but not on equipment. We're still small enough to not have to pay taxes on out of state internet sales. Those tax savings are your savings. Sometimes doing business with a smaller company has its sales tax benefits.

NO credit card processing fees! While other dealers and sellers of screen printing equipment charge you a fee for using a credit card, Catspit Productions does not. Use your credit card freely without being hit with a big surcharge in processing fees. Save hundreds if not thousands!
Free technical support for all - Whether you buy from us or not feel free to give Jonathan a call if you need help with anything. That's what we do here. We teach and educate first. Helping you with your equipment and supplies purchases comes secondary to that. An informed customer is a happy customer. And all equipment purchases come with lifetime support. Just give us a call.
SHIPPING INFO:
The factory is closed on Saturdays and Sundays as well as all major holidays. Supply orders ship within 3 to 5 business days. Equipment orders have a 6 to 8 week lead time or less to ship from the date your payment is confirmed and cleared. All standard shipping is provided by UPS ground. Items that ship freight may vary by carrier.
http://catspitscreenprintsupply.com/shipping-returns/
If you have questions, need rush service or personal details need to be arranged for equipment orders please call Catspit Productions. Do not call the manufacturer. We are your screen printing equipment dealer. If you call manufacturers direct, you're making a purchase from those entities, not Catspit Productions. If you wish to support us and do business with us then please call us direct for all your equipment and supplies needs. We're happy to help out in any way. 480-899-9089