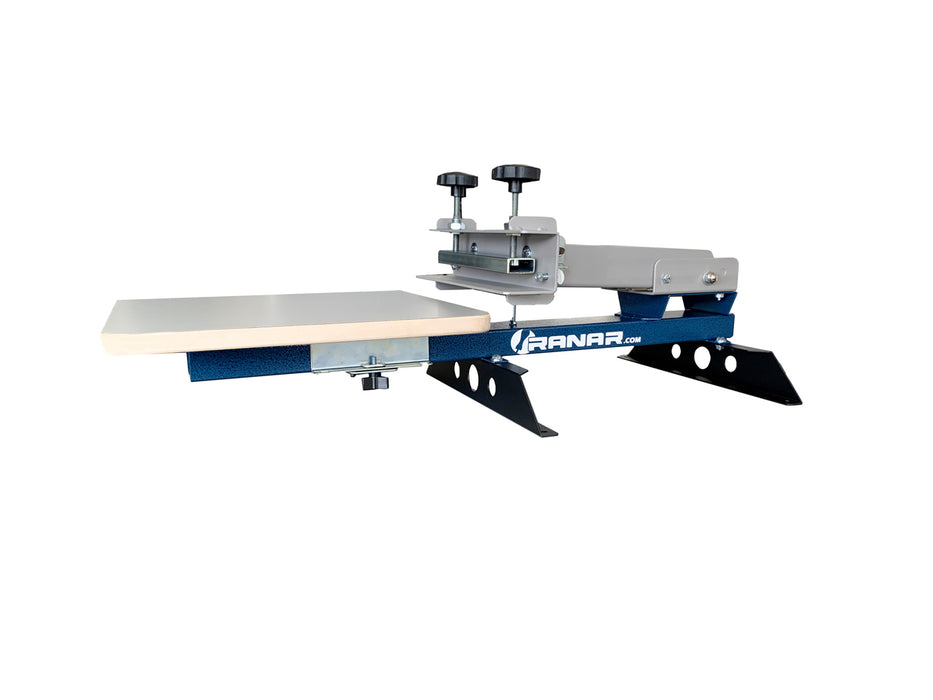 RANAR 1 Color Bench Top Press P-110C
<!button class="product-form--atc-button">Call to order:
480-899-9089
$295.00 List price. $40 boxing/packaging fee. Total = $335.00.
Please choose residential, ($55), or commercial, ($35), delivery for a flat rate shipping fee.
RANAR 1 Color 1 Station Bench Top Press P-110C - This is an all-new design for 2019. This screen printing machine can do 1 color screen prints with 1 fixed pallet. It's a table top version of our heavy duty floor presses. This P-110C bench top screenprinting press now takes all standard Ranar rotary printing machine accoutrements, attachments, and accessories. Constructed in the USA with American steel by skilled fabricators and craftsmen. All of our compact table top economy t-shirt printing presses can be easily set up to print tag less labels on t-shirts, or tote bags, posters, textile, cozies, athletic products, hats, black shirts and nylon jackets. 
Bench Top Press Standard features:
- Compression Spring design. The compression springs are safe and long lasting and do not require the need to add springs or move the mounting locations or gas shocks that lose pressure over time. This set up helps avoid the risk of springs that stretch, brake or possibly fly at the operator during use.
- Off Contact adjustment allows the screen to be moved away from the printing surface. Ideal for printing tee shirts or stickers, decals, and signs. Leaves a crisp print every time.
- Screen Angle /Tilt adjustment allow the screen to be leveled to the shirt board.
- Heavy Duty Screen Clamp holds the screen frame in place.
- Large Screen Capacity 32" x 36" for sign or poster printing. See our poster press with vacuum pallet and micro registration setup available in 18x24 and 20x28.
- Ships UPS in boxes, assembly required.
- Takes all the same Ranar pallets or accessories as the floor presses.
Lifetime guarantee only from Catspit - We guarantee all Ranar screenprinting presses to last a lifetime. Catspit Productions guarantees all parts, with the exception of MDF pallets, for a lifetime for the original owner if you buy through Catspit Productions. We do not guarantee or warranty Ranar presses bought through Ranar or other dealers.
SHIPPING INFO:
The factory is closed on Saturdays and Sundays as well as all major holidays. Supply orders ship within 3 to 5 business days. Equipment orders have a 2 to 3 week lead time to ship from the date your payment is confirmed and cleared. All standard shipping is provided by UPS ground. Items that ship freight may vary by carrier.
http://catspitscreenprintsupply.com/shipping-returns/
If you have questions, need rush service or personal details need to be arranged for equipment orders please call Catspit Productions. Do not call RANAR. We are a dealer for RANAR; if you call them direct you're making a purchase from RANAR not Catspit Productions. If you wish to support us and do business with us then please call us direct for all your equipment and supplies needs. We're happy to help out in any way. 480-899-9089
The warranty information is as follows on all RANAR equipment across the board:
3 years on mechanical. This includes the build of the press and the parts.
2 years on infrared panels for dyers and flash cure units.
1 year on all electrical work.