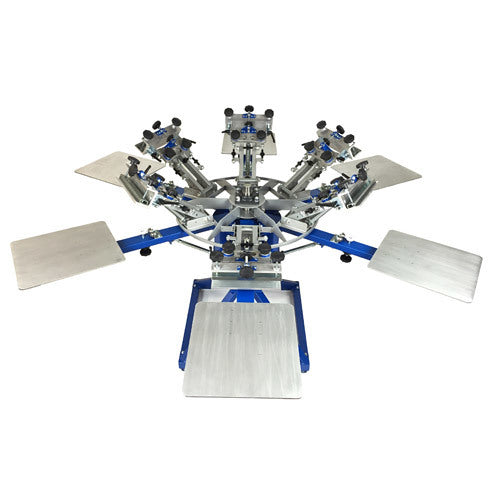 RANAR 6 Color/6 Station Elite II Rotary Press With Micro Registration E-6600
<!button class="product-form--atc-button">Call to order:
480-899-9089
List pricing $5995.00 plus $275.00 crating fee = $6270.00.
Commercial delivery - $50.00
Residential/School or College Delivery - $80.00
Lift gate fee - $100.00
RANAR 6 Color / 6 Station Elite Series II Rotary Press With Micro Registration E-6600 - Configured as a 6 color, 6 station, the Elite Series is our top of the line t-shirt Printing Press. Standard features such as: precision-machined cast aluminum micro-adjust heads, adjustments for off contact, uneven or warped screens, screen angle, platen leveling, and our patented adjustable screen lift tension. A strong extruded aluminum screen back clamp assures a tight grip of the screen frame up to a 26'' wide capacity. A roller bearing and steel key for perfect registration every time (no nylon bolts to wear out). Construction features consist of all ball bearing ultra glide rotation, heavy duty tubular steel, powder coated for a rugged finish. You can add side clamps to this press as an option, as well as all RANAR accessories such as a jacket hold down, cap printing, athletic numbering attachments. 
- Free Shipping Anywhere In The Continental USA!
- Lifetime Guarantee On ALL Presses!
- No Sales Tax Except in California State!
- Steel Roller Bearing Indexer AND Key!
- Hazard Free Compression Spring Lift Arms!
- No Moving Parts On ALL Print Head Clamps!
- Elite Series II Press Has 16"x18" Aluminum Pallets Standard!
- Elite Series II Press Has Micro Registration Standard!
- Elite Series II Press Has Secondary Pallet Arm Off Contact Adjustments!
- Elite Series II Press Has pallet Arm Leveling!
- Elite Series II Presses Have Tools Free Adjustments!
- Elite Series II Presses Have Screen Angle Warp Adjustments!
- Elite Series II Presses Have Pallet Arm Rulers!
- Elite Series II Presses Have A Mechanical Micro Zeroing System!
- Elite Series II Presses Have Cast And Extruded Aluminum Print Heads!
- Lifetime Technical Support From Experience!
- Your hard earned money stays right here in the USA!
SHIPPING INFO:
The factory is closed on Saturdays and Sundays as well as all major holidays. Supply orders ship within 3 to 5 business days. Equipment orders have a 2 to 3 week lead time to ship from the date your payment is confirmed and cleared. All standard shipping is provided by UPS ground. Items that ship freight may vary by carrier.
http://catspitscreenprintsupply.com/shipping-returns/
If you have questions, need rush service or personal details need to be arranged for equipment orders please call Catspit Productions. Do not call RANAR. We are a dealer for RANAR; if you call them direct you're making a purchase from RANAR not Catspit Productions. If you wish to support us and do business with us then please call us direct for all your equipment and supplies needs. We're happy to help out in any way. 480-899-9089
The warranty information is as follows on all RANAR equipment across the board:
3 years on mechanical. This includes the build of the press and the parts.
2 years on infrared panels for dyers and flash cure units.
1 year on all electrical work.