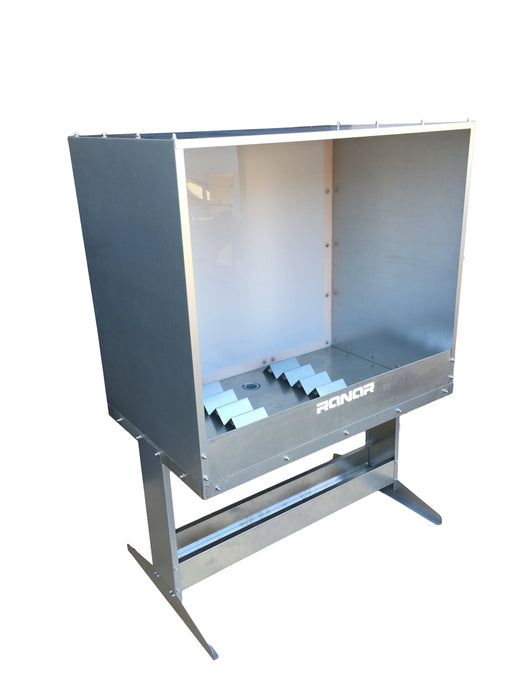 RANAR Econo Back Light XL Stainless Steel Washout Booth
<!button class="product-form--atc-button">Call to order:
480-899-9089
$1815.00 List Pricing Plus $215.00 Crating Fee = $2030.00.
Commercial Delivery Fee - $45
Residential Delivery Fee - $85
School or College Delivery Fee - $125
Lift Gate Fee - $95
RANAR Econo Back Light XL Stainless Steel Washout Booth - Stainless steel. This is a stainless steel version of our Econo Back Light XL washout booth. The only thing better than an oversized Washout booth, sink capable of handling screens up to 40" x 46" is one with two mounted back-lights that allow for easy screen inspection and reclaiming, operates by air foot switch for an added level of safety. Created specifically for the commercial high production screen printer that uses oversized or multiple screen frames at a time. The Econo XL Washout Booth is capable of handling automatic screen frames up to 40" x 46". 
Built from the frame of the popular Econo Washout Booth this washout sink makes washing out large, extra large and over sized textile printing frames easy. Made of galvanized steel, the unit comes complete with a metal top, transparent plastic back, perforated drain and a deep trough, which minimizes back splash.
Unit dimensions: 48"w x 30d" x 69"h
Ship dimensions: 52"w x 10"d x 49"h
Weight: Approx. 150 lbs. Ships LTL
Manufactured for the graphics & garment printing industry to easily wash out designs after exposure. Made of stainless steel for durability with a transparent acrylic back to allow easy viewing of screens. Complete with top, perforated drain and a deep trough which minimizes back splash.
SHIPPING INFO:
The factory is closed on Saturdays and Sundays as well as all major holidays. Supply orders ship within 3 to 5 business days. Equipment orders have a 2 to 3 week lead time to ship from the date your payment is confirmed and cleared. All standard shipping is provided by UPS ground. Items that ship freight may vary by carrier.
http://catspitscreenprintsupply.com/shipping-returns/
If you have questions, need rush service or personal details need to be arranged for equipment orders please call Catspit Productions. Do not call RANAR. We are a dealer for RANAR; if you call them direct you're making a purchase from RANAR not Catspit Productions. If you wish to support us and do business with us then please call us direct for all your equipment and supplies needs. We're happy to help out in any way. 480-899-9089
The warranty information is as follows on all RANAR equipment across the board:
3 years on mechanical. This includes the build of the press and the parts.
2 years on infrared panels for dyers and flash cure units.
1 year on all electrical work.