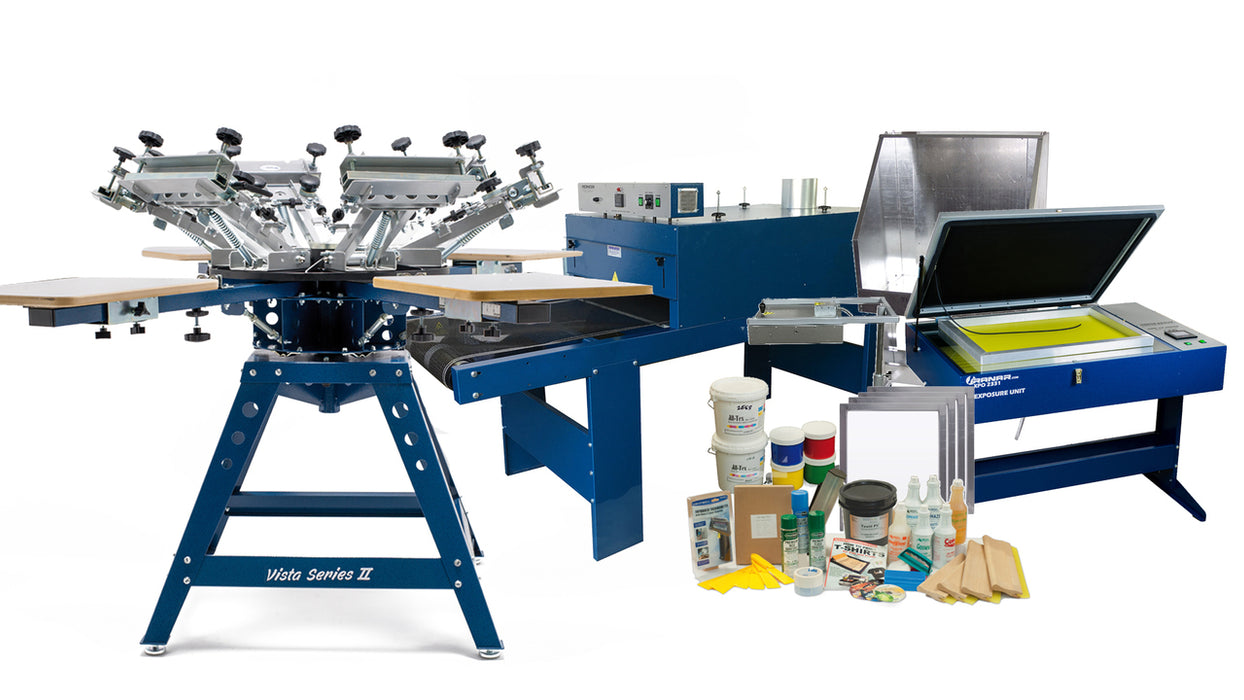 RANAR Primo Screen Printing Package
<!button class="product-form--atc-button">Call to order:
480-899-9089
RANAR Primo Screen Printing Package - This package is at list pricing plus boxing or crating fees. Please contact us for a pricing spreadsheet breakdown.
List pricing - $11,650.00
Commercial delivery fee - $90
Residential or school delivery fee - $160
Lift Gate fee - $95
One of the newest and most comprehensive silk screen printing shop packages from the affordable Ranar selection, the Primo package will take you through the complete process of screen printing; from printing your designs onto inkjet film to drying your last tee shirts and completing your job. 
The Primo Package is designed around the 6 color 4 station Vista series silk screening Press with tool-free micro-registration, off contact adjustment, platen or stations leveling, screen angle and pitch adjustment.
And when used with the D162 flash dryer, the Vista 6 color /4 rotary stations will allow faster flash curing, when under base printing on dark garments, or increased production using one person to load t-shirts, and unload to the infrared conveyor dryer while the other person prints.
The Primo Package is an affordable package with professional equipment to help you get set up with equipment that offers high quality and durability production rates of 150 to 200 shirts per hour to help your business grow.
The package comes with the XPO2331 Vacuum Screen Exposure Unit. Capable of exposing the increasingly popular 23" x 31" auto frames for larger designs; this unit offers the most requested features among professional screen printers and provides a consistent exposure with the ability to hold very fine lines and halftones.
It also includes the popular 8' long Curestar 4000 conveyor dryer. This infrared unit and its 24" wide belt allows for close to 200 plastisol shirts per hour. This unit is fully insulated, and runs on 220v single phase power for affordable curing with the lowest power consumption (kw/hr).
While most packages cover the basics, the Primo Package goes above and beyond and offers the extra items needed to run screen printing shop successfully.
1. V6400 Vista 6 color 4 Station Press
2. Curestar 4000 8' x 24" Conveyor Dryer
5. XPO-2331 Screen Exposure Units
6. Cruiser Supplies Package
1 Gal White Ink
1 Gal Black Ink
1 Qt Blue Ink
1 Qt Red Ink
1 Qt Green Ink
1 Qt Yellow Ink
1 Gal Emulsion
1 Quart LER Emulsion Remover
1 Quart PTC3 Plastisol Ink Solvent
1 Quart PHR 10 Haze Remover
1 Quart Super Degreaser 700
10 Aluminum Screens
4 Squeegees
6 Ink Scoops
1 Scoop Coater
1 Pkg Test Pellons
1 Pkg 8.5 x 11 Imaging Film
2 Cans Spray Adhesive
1 Screen Opener
1 Screen Tape
1 Temperature Gun
1 Training Book / DVD Set
SHIPPING INFO:
The factory is closed on Saturdays and Sundays as well as all major holidays. Supply orders ship within 3 to 5 business days. Equipment orders have a 2 to 3 week lead time to ship from the date your payment is confirmed and cleared. All standard shipping is provided by UPS ground. Items that ship freight may vary by carrier.
http://catspitscreenprintsupply.com/shipping-returns/
If you have questions, need rush service or personal details need to be arranged for equipment orders please call Catspit Productions. Do not call RANAR. We are a dealer for RANAR; if you call them direct you're making a purchase from RANAR not Catspit Productions. If you wish to support us and do business with us then please call us direct for all your equipment and supplies needs. We're happy to help out in any way. 480-899-9089
The warranty information is as follows on all RANAR equipment across the board:
3 years on mechanical. This includes the build of the press and the parts.
2 years on infrared panels for dyers and flash cure units.
1 year on all electrical work.