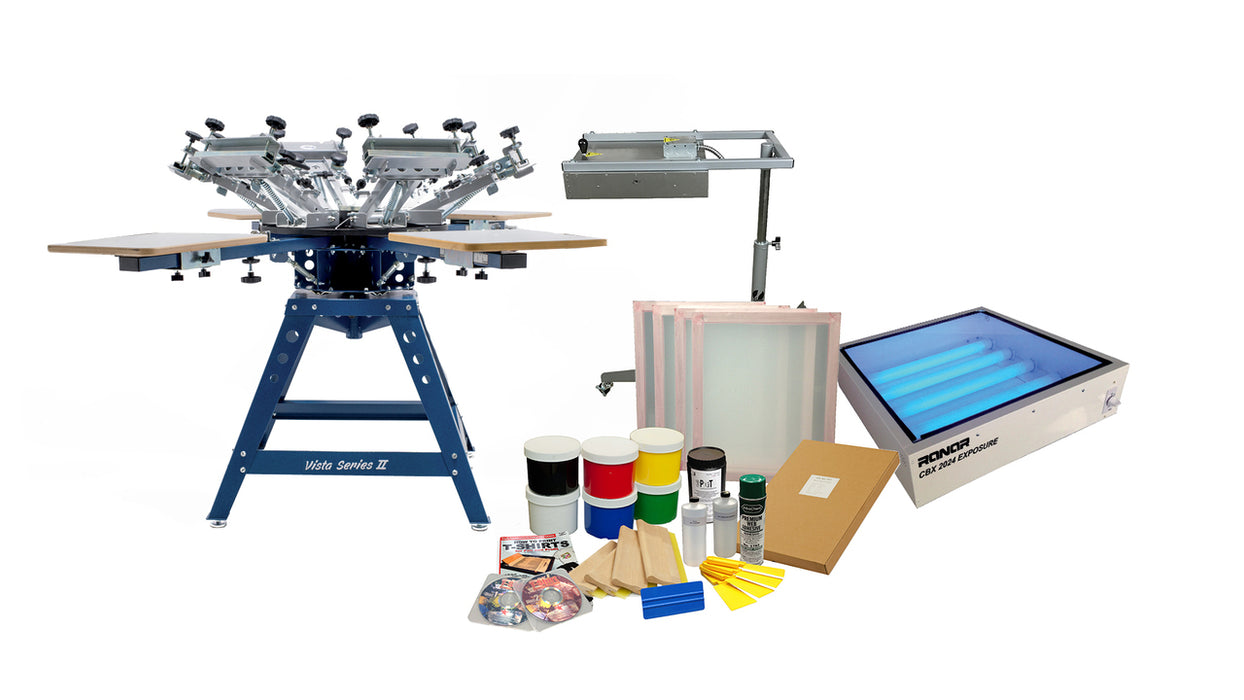 RANAR Small Business Screen Printing Package
<!button class="product-form--atc-button">Call to order:
480-899-9089
RANAR Small Business Screen Printing Package- RANAR manufactures the VISTA Series Presses for the Entry Level Screen Printer. All of the Vista series have micro-registration. There are adjustments for warped or uneven screens, and off contact. As well as our patented adjustable screen lift tension. Plus a roller bearing and key index registration system for perfect multi-color prints every time. These printing presses are made of steel and powder coated for a durable finish and upgrade-able. 
Rotary Platen Silk Screen Printing And Flash Drying:

Advantages of a multi-station rotary Screen Printing Press: Two people can operate this press for higher production; for example one person prints, while one loads and unloads T-Shirts to a textile conveyor dryer. Printing dark shirts can be time consuming. With a RANAR rotary Screen Printing Press, one shirt can be printed and quickly rotated under a flash dryer as the next shirt is being printed while the other is flash cured, thereby increasing production times and profits.
Up-gradable and Convertible Screen Printing Press:
The Vista series presses are designed to grow with your business. A home business starting with a V-4100 4 color 1 station t-shirt printing press, can easily be upgraded or converted to 6 colors and 4 or 6 station rotary printer for professional screen printing shop. We offer many kits and shop packages, to help you start and grow your screen printing business.
Lifetime guarantee only from Catspit - We guarantee all Ranar screenprinting presses to last a lifetime. Catspit Productions guarantees all parts, with the exception of MDF pallets, for a lifetime for the original owner if you buy through Catspit Productions. We do not guarantee or warrantee Ranar presses bought through Ranar or other dealers.
V6400 6 Color 4 Station Floor Press
CBX2024 Non Vacuum Exposure Unit, 110v
D162 16x16 Flash Dryer, No Heat Control 110v
Junior Supplies Package
4 Aluminum Screens 20" X 24" mesh 110

1 QT Screen Stencil Emulsion

6 QTS All-Textile Plastisol Ink: white, black, green, yellow, blue, red

1 Pack Test Pellons (White)

1 Pack 8.5" X 11" Ink Jet Film Water Proof output Film

1 Emulsion Spreader

1 QT PTC3 Ink Cleaner

4 Ink Scoops

4 Squeegees 14"

1 QT LER Emulsion Stencil Remover

1 can Spray Pallet Adhesive
SHIPPING INFO:
The factory is closed on Saturdays and Sundays as well as all major holidays. Supply orders ship within 3 to 5 business days. Equipment orders have a 2 to 3 week lead time to ship from the date your payment is confirmed and cleared. All standard shipping is provided by UPS ground. Items that ship freight may vary by carrier.
http://catspitscreenprintsupply.com/shipping-returns/
If you have questions, need rush service or personal details need to be arranged for equipment orders please call Catspit Productions. Do not call RANAR. We are a dealer for RANAR; if you call them direct you're making a purchase from RANAR not Catspit Productions. If you wish to support us and do business with us then please call us direct for all your equipment and supplies needs. We're happy to help out in any way. 480-899-9089
The warranty information is as follows on all RANAR equipment across the board:
3 years on mechanical. This includes the build of the press and the parts.
2 years on infrared panels for dyers and flash cure units.
1 year on all electrical work.