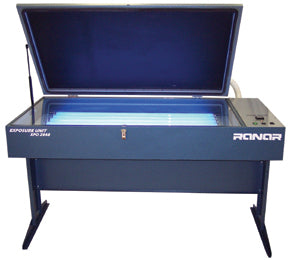 RANAR XPO-2848 Vacuum Exposure Unit 220v
<!button class="product-form--atc-button">Call to order:
480-899-9089
RANAR XPO-2848 Vacuum Exposure Unit 220v - The XPO-series screen printing exposure units, designed for startup t-shirt printing shops on a budget. Expose or burn images onto photo emulsions with high output UV Fluorescent lights, with accurate detail. Produce multi-color silk screen printed designs with fine lines or halftones used in four color process with quality film positives. Exposing dual cure, diazo and photopolymers emulsions, plus capillary films are easily done. All of these are commonly used in the textile, graphics, and ad specialty printing industries. 
The Ranar XPO-series screen exposure units have a rigid tubular frame with holes in sides where the vacuum draws air from the exposure area. This vacuum frame has a rubber blanket that raises and lowers with gas shocks for easy access. A fast vacuum draws down the neoprene rubber blanket to the clear glass and creates perfect contact between your film positive and screen for clean crisp resolution. An accurate programmable digital timer controls exposure times. We use energy efficient electronic ballasts and unfiltered ultraviolet black light bulbs with 320 nanometers in our screen exposure units. With a flip of a switch the vacuum and ultraviolet lights can be used manually or automatically.
8 High output unfiltered blacklite bulbs
Digital countdown timer
Powerful vacuum for quick draw down
Rubber blanket provides perfect contact between positive and screen
Automatic vacuum and light shut down
8-48" bulbs provides very rapid exposing
Complete w/stand
Digital countdown timer
Can burn multiple screens simultaneously
1 year warranty
26"X46" Max screen capacity
220v
SHIPPING INFO:
The factory is closed on Saturdays and Sundays as well as all major holidays. Supply orders ship within 3 to 5 business days. Equipment orders have a 2 to 3 week lead time to ship from the date your payment is confirmed and cleared. All standard shipping is provided by UPS ground. Items that ship freight may vary by carrier.
http://catspitscreenprintsupply.com/shipping-returns/
If you have questions, need rush service or personal details need to be arranged for equipment orders please call Catspit Productions. Do not call RANAR. We are a dealer for RANAR; if you call them direct you're making a purchase from RANAR not Catspit Productions. If you wish to support us and do business with us then please call us direct for all your equipment and supplies needs. We're happy to help out in any way. 480-899-9089
The warranty information is as follows on all RANAR equipment across the board:
3 years on mechanical. This includes the build of the press and the parts.
2 years on infrared panels for dyers and flash cure units.
1 year on all electrical work.